Child Rights Monitoring Committees are formed of a cross-section of the local community who receive training and support so the whole community has a deeper understanding of children's rights and can champion pathways for them to realise their full potential. These committees become powerful community advocates to drive change.
Children's Collectives help to connect children from different hubs, villages and urban deprived areas to discuss the issues that matter the most to them and how to contribute to their community and/or engage decision makers such as Panchayats (village councils). This empowers young people as they creatively and reflectively engage with their immediate physical and social environment, beginning a journey that will inspire and enable children to change their world.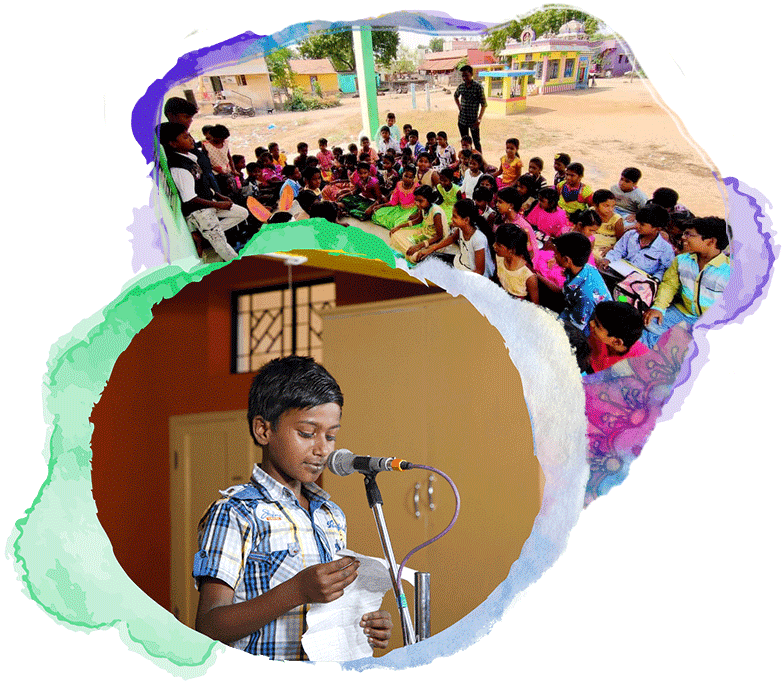 Stronger relationships with community schools that result in community support for the hubs as teachers and parents see the benefits that creative learning spaces bring for the children, supplementing and extending the educational opportunities that they get through formal learning. Headteachers have been so impressed by the approaches used in the hubs that they have invited our partners to work with teachers so that these can be replicated for all pupils in the local schools.
Investing in community facilitation and locally owned spaces by…inviting leadership within hubs from respected individuals from that community who work well with the children. Deeper connections with the community develop because we and our partners build the capacity of local facilitators through training and skills development, listen to local voices, and respond to their needs; and in return they trust the facilitators, see tangible benefits from the hubs, and value the inputs and expertise brought by our delivery partners.